Artist: Willis Barnstone

Brave Poet Jack Kerouac

In a jammed New Haven room, Jack Kerouac, unshaven and breezy,
Mount Tamalpais wakens and screams Satori!






Daybreak with Jean-Louis Kérouac

♪

Never expected Jack to show. I'm eating supper
with Gregory Corso in a lonely blue Italian joint
in New Haven. He is coming up alone to read

his poems at Wesleyan. Bragging about Jack,
Greg gets mournful, as if Kerouac had spun off
the planet. I say: "Look, Jack's not a corpse.

He's alive, knocking it out. What kind of shit . . ."
Corso, the straight pin of the gang, lets me have it:
"Ginsberg sleeps with everyone. Allen, poor Allen,

he's just a whore. I'm the only straight dude
who's ever slept with Jack-o'-Lantern. We're tight."
Corso's proud of being top gun with Kerouac.

Jack stinks out loud with whisky, but off booze,
he's really low key, gentle. He's a timid man.
On the weekend, Greg shows. He's come up

from the city with a tired wobbling bum wearing
a black ratty raincoat hugging his ankles,
a black fedora and shades . . . HEY, KEROUAC!

YOU GOTTA BE KIDDING. Drunk as a hog, his feet
made of cotton, Jack's smiling a lot. I ferry him
to Olin Library and present him to Professor Greene,

expert in Christmas carols. Jack asks Greene:
"What are you teaching, sir?" "Shakespeare,"
responds the patrician teacher. "D'yuh like

Shakespeare?" says Jack. "I love Shakespeare,"
states the professor. Overjoyed, Jack shouts:
"I love Shakespeare too!" And he grabs his new

friend's cheeks and slaps a wild kiss on his lips.
"I've read your books," says Greene. "I like 'em.
Where can I take you?" The scholars skip off.

♫

In the evening, Corso stuns me. "Are those tramps
going to beat me up? You're crazy." But Corso
won't read his poems. He raves about his hero

William Burroughs, whispers a chapter from Naked Lunch
and we're transported to jungle rapture and shots
of heroin Burroughs sticks in the ass of a Brazilian boy.

After a discourse on love, Greg and the gang of pals
Jack came up with from New York jam into a side room,
and Jack is sober and describes his dawn climb

up Mount Tamalpais north of the Golden Gate.
Jack is impassioned. "I climbed Tamalpais.
I got to the top and beheld daybreak. I saw satori!"

"You saw bullshit!" Corso throws in. "I saw bullshit,"
Jack confesses. He surrenders. A buddy knows I'm nuts
about everything Greek and puts on an LP

of hassapiko from Asia Minor dens. Jack tells me:
"Let's dance." We squat, arms locked, and we're doing
the butcher's dance strict and low until Zen daybreak.






The following is Willis Barnstone's translation of Charles Baudelaire's poem, "Recueillement," from Les Fleurs du mal, accompanied by the translator's painting of the poet.

Recueillement

Sois sage, ô ma Douleur, et tiens-toi plus tranquille.
Tu réclamais le Soir; il descend; le voici:
Une atmosphère obscure enveloppe la ville,
Aux uns portant la paix, aux autres le souci.

Pendant que des mortels la multitude vile,
Sous le fouet du Plaisir, ce bourreau sans merci,
Va cueillir des remords dans la fête servile,
Ma Douleur, donne-moi la main; viens par ici,

Loin d'eux. Vois se pencher les défuntes Années,
Sur les balcons du ciel, en robes surannées;
Surgir du fond des eaux le Regret souriant;

Le soleil moribond s'endormir sous une arche,
Et, comme un long linceul traînant à l'Orient,
Entends, ma chère, entends la douce Nuit qui marche.



Meditation

Be sage, O my Sorrow, and please keep calm.
You call for Evening. It descends somewhere.
A dark mood envelops the city qualm,
Bringing peace to some. And to others care.

While rough humanity, a multitude vile
Below the whip of Pleasure, a merciless thug,
Gathers remorse in holidays now servile,
Agony, give me your hand. Come, let's hug

Far from the mob. See dead years rise upset
On the sky's balconies in dull garment.
Out of deep waters, looms laughing Regret.

The glum sun leans asleep below an arch.
Like a long shroud dragging in from the Orient,
Hear, my dear, hear the sweet Night walker's march.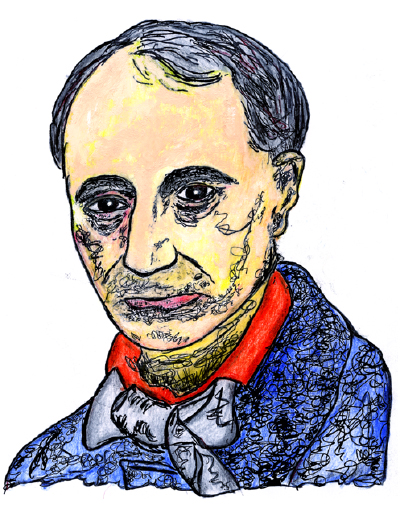 Artist: Willis Barnstone






Artist: Willis Barnstone




Elephant with Shoes of Satin

The elephant like whales is hugely smart
And phones her feelings over herbal plains.
She fears no living creature, yet a heart-
less gun will still her memory. The rains
Shampoo her mountain back. Before a stream
She tests the floor in ballet-pads as feet

And then in silence crosses in a dream
Through oceanic waterfall pools to defeat
Her roaming thirst. She swims for hours. Her brain
Is three times bigger than any man's.
Aspiring to dance on stars, the holy elephant
Smells Heavens. Listen to her cosmic chant.

If lions snare her calf, she fights and screams insane
While charging males joust tusk-to-tusk or use
Their proboscis like an airplane to snare
300 pounds of food from trees. Her twin-ears fan
The south wind into blowing North. Do not abuse
This monument of muddy beauty. Care.

Beware of Chinese Hemingways or the rich fool
Who claims ground ivory cures his languid tool.
The elephant is wisely kind to friends. Shakespeare
Composed her as blue goddess of our sphere.
At night she dances on stars. The holy elephant
Smells heavens. Listen to her cosmic chant.






Late December, Where Are You, Robert Frost?

Where are you, Robert Frost? The first poems
I heard were yours which you recited on
the stages of my many schools. "Rough gems"
my teachers called them and called you "the con
man of the cracker barrel." Jealous snobs.
Plato wrote for the tomb of his ally,
Tyrant of Syracuse: "Honored by the mobs
of patriots, but I was one who loved you, my
friend Dion!" Once in Middletown, we three,
Snow, Frost and Stone sat down to eat a cold
lunch. Almost deaf you did the talking, told
how you read Homer only in the Greek
at Harvard, quit and hit the woods. I see
your face this morning, fresh, and winter bleak.




Artist: Willis Barnstone


T.S. Eliot (1888-1965)

Even high Priest Eliot in Love (+ hatred in his racial pee)
Knows when Death Ship anchors near, it's good to flee.




Artist: Willis Barnstone


Lawrence Ferlinghetti (1919-2021)

In Coney Island of the Mind, with Kafka and Goya, he
Paints a blue elephant in bathtub into modern poetry.




Artist: Willis Barnstone


Edna St. Vincent Millay (1892-1950)

Sonneteer, playwright, novelist, adventurer, brave
Beautiful bisexual woman, auto mishap and too soon to grave.